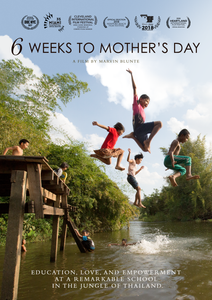 6 Weeks to Mother's Day
Regular price
Sale price
$295.00
Tax included.
---
Directed by: Marvin Blunte
Released: 2018 (educational)
Year of Production: 2017
Running Time: 93 min
Language: Thai
Subtitle Options: English SDH
Subjects: Children, Youth, and Family, Education, Southeast Asian Studies, Physical and Mental Health
Education, love and empowerment at a remarkable school in the jungle of Thailand... 
6 Weeks to Mother's Day paints an intimate portrait of Thai culture by exploring one of its most progressive schools, Moo Baan Dek (Children's Village). Home to some of Thailand's most underprivileged children, Children's Village has become a pillar in the Thai education system and a promising symbol of the country's future. 
Located in a remote jungle village in Kanchanaburi province, children sleep twelve to a room, have no hot water, limited electricity, and work together in the village garden to help provide themselves with food. It is a simple way of life where nature is used to encourage both healing and education.
The school follows A.S Neill's democratic education system known as Summerhill.  In a Summerhill setting, students of all ages are given a strong voice, study what they choose, and participate equally with teachers in school votes.
6 Weeks to Mother's Day follows the students as they prepare a special celebration to honor the school's founder and person they refer to as mother, Rajani Dhongchai, on what will be her 35th Mother's Day at the school. Along the way, prepare to witness Thailand's oldest democratic school in action and rare slice of Thai culture as seen through the eyes of some of its most forward thinking children.
Festival & Conference Screenings
DOC NYC
Miami International Film Festival - Best Documentary Nomination 
Cleveland International Film Festival - Greg Gund Memorial Standing Up Competition Winner
Newport Beach Film Festival
Bentonville Film Festival
Heartland Film Festival
Covellite International Film Fest  
Alternative Education Resource Organization Conference
Cinetopia Presents - Michigan Theater
International Democratic Education Conference
Press & Accolades
"Documentarian Marvin Blunte captures with a self assertive sense of admiration, the wonderful assistance and guidance given to the impoverished children residing at Children's Village School... portraying Mother Aew and her heroic achievements as remarkable examples to be followed worldwide. 6 WEEKS TO MOTHER'S DAY has the ability to fill our hearts with optimism and gratitude. [A] beautiful film about a woman and the school she founded that will make rethink what education could be or should be. In the running for one of my favorite films of 2017." - Film Threat
"The idea is that by allowing the kids to help steer things they will become more engaged with themselves, their studies and the world. Based on what we see in the film it seems to be working. Watching the film you can not help but become infected with hope for the future and a sadness that your own schooling wasn't in a place such as this. This is absolutely one of the very best films playing at DOC NYC." - Steve Kopian, Unseen Films
"It is very skillfully filmed and has many insightful and dramatic scenes. 6 WEEKS TO MOTHER'S DAY is also collaborating with Google Expeditions to create a virtual reality (VR) field trip, where teachers and students can use Google Cardboard to be transported to Children's Village Thailand. This will be the first ever Expedition available in both English and Thai, further solidifying Mother Aew as one of the most progressive minded teachers in the country." - Jerry Mintz, AERO (Alternative Education Resource Organization)
"6 WEEKS TO MOTHER'S DAY tells the story… of tears of gratitude…I was astonished at the educational principles demonstrated in scenes showing how children are not required to learn, but are encouraged to want to learn by the teachers; how the children run their own council that delivers discipline to the only infringement a child can make—harming another person; and how they negotiate with Mother Aew to give themselves tougher discipline than she would. The school runs on the barest of resources but it's poverty is contrasted, in one section of the film, with the degradation, alcoholism, and lack of hope seen in a visit to the parents of twin boys. Suddenly we realize that the school is actually beautiful, serene, and filled with love in comparison to the extreme harshness of life outside. This film is a must see for any educator and for anyone who likes children (and mums for that matter!)" - Joanne Butcher, CineSource Magazine
"Rajani Aew (Mother Aew) taught in public schools but didn't really like it, and was inspired by A.S. Neill's Summerhill School to do something more for students. Since its conception, their philosophy has been simple–raise children with values of freedom, empowerment, equality, and compassion, and they will become functioning members of a democracy and happier human beings. Happiness is emphasized most at Moo Baan Dek (The Children's). Though choosing their own path and having ownership of their education, children are able to be happy and fulfilled. Instead of trying to shape kids to be great doctors and lawyers, Rajani explained at morning meeting, teachers aim to shape kids to be powers for good in the world." - Sarah Faber, TOWER
Host a Screening and Book the Filmmaker at your Event