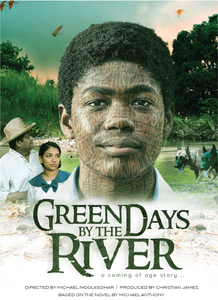 Green Days by the River
Regular price
Sale price
$295.00
Tax included.
---
Directed by: Michael Mooleedhar
Release Date: 2018 (Educational)
Year of Production: 2017
Running Time: 102 min
Language: Trinidadian English Creole 
with English subtitles
Accessibility:
 Includes English closed captions
Subjects: Caribbean Studies, Caribbean Literature, Post-Colonial Literature,
A powerful new coming-of-age film based on the famed 1967 novel by Trinidadian Author Michael Anthony...
Synopsis
A Caribbean coming-of-age classic in the tradition of SUGAR CANE ALLEY, Michael Mooleedhar's first feature is adapted from Michael Anthony's acclaimed 1967 novel. Set in 1952, the story centers on the 15-year-old boy Shellie (Tafari), whose poor but closely knit family has recently relocated to a village in the Mayaro region of Trinidad.
With his father seriously ill, Shellie acquires a surrogate father-figure in the wealthy plantation-owner Mr. Gidharee (Lawkaran), and he finds himself torn between Gidharee's seductive half-Indian daughter Rosalie (Kandhai) and the more down-to-earth charms of out-of-town girl Joan (Bartholomew).
But does Shellie really have a choice, or has a trap been laid for him from the very beginning? GREEN DAYS BY THE RIVER is a rich sensory experience, featuring a lush sense of place, a superb music-laced soundtrack, and vividly colored, beautifully composed cinematography.
Awards & Festivals 
Nominated - Outstanding Foreign Language/World Cinema Motion Picture - Black Reel Awards
Diaspora Festival of Black and Independent Film 
Seattle International Film Festival 
24th Annual Black Harvest Film Festival                                          
CaribbeanTales International Film Festival 
Valetta Film Festival 
AFI Silver DC Caribbean Filmfest 
Washington, DC International Film Festival 
Festival International de Films de Fribourg (EU Premiere) 
Pan African Film Festival – Los Angeles, USA (US Premiere) 
In The Press
"A rich sensory experience, featuring a lush sense of place, a superb music-laced soundtrack, and vividly colored, beautifully composed cinematography." - Gene Siskel Film Center
"Proudly Trinidadian, it is a moving, suspenseful film that stirred the mostly Canadian Caribbean audience that all but filled the College Street cinema. Aside from the English subtitles for those that don't have a "Caribbean ear", the actors, the landscape and the moral dilemmas of its main characters were Trini to the Bone." - Stephen Weir
"The story, following faithfully Anthony's novel, is a daily life saga, but has deep and menacing messages.  Nothing comes for free, as the main character, Shellie, finds out. You cannot play with people's lives, and kindness offered may have an ulterior motive." - The Nassau Gaurdian
Host a Screening and Book the Filmmaker at your Event