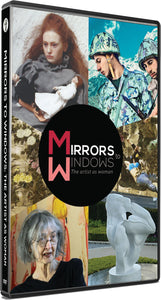 Mirrors to Windows: The Artist As Woman
Regular price
Sale price
$295.00
Tax included.
---
Directed by: Susan Steinberg
Released: 2017 (educational)
Running Time: 76 min 
Language: English, Closed Captioned
Subjects: Feminism, Visual Arts
Produced by Emmy award-winning filmmaker, 'Mirrors to Windows: The Artist as Woman' is a unique film following an international cast of three generations of women artists who are all forging their careers in the heat of the London art scene.
From the studio to the gallery, candid conversations infused with humor and zeal give us a rare insight into the lives of ten artists working across a diverse array of mediums, who are united by an enduring belief in themselves and their work.
Featuring artists aged 22-82, the film forms a compelling collective biography, telling an uplifting, cross-generational coming of age story. Act 1 sees three young artists at the start of their careers. Act 2 finds artists balancing the conflicts of middle age, and in Act 3, four artists are experiencing new-found freedom as their work becomes more active than ever.
With artists hailing from Egypt, France, Germany, Iran, the UK and the USA, 'Mirrors to Windows' weaves ten unique perspectives in art to tell the story of artists' lives all around the world. This extraordinary documentary reveals how artists' personalities, ideas, voices, and practices exist in continuum with their art, treating it all as part of a whole - a life lived through art; and art as a realm of being.
Filmed over a period of three years, Emmy award-winning director Susan Steinberg takes you on a fast-paced yet intimate journey behind the gallery walls, to reveal the dynamic and multi-faceted nature of this enigmatic calling. In the negotiation between art and life, the artist emerges.
Featuring Maliheh Afnan, Alice Anderson, Helaine Blumenfeld OBE, Jodie Carey, Susan Collins, Nermine Hamman, Charlotte Hodes, Sarah Lederman, Almuth Tebbenhoff and Rose Wylie RA.
RECOMMENDED BY VIDEO LIBRARIAN:
"London-based American filmmaker Susan Sternberg profiles 10 women artists in this enlightening documentary divided into three parts, according to age. Although two of the artists, Nermine Hammam and Maliheh Afnan, hail from the Middle East, all are based in the United kingdom. In addition to their interviews, Sternberg captures the women at work. Some incorporate their own bodies into pieces, like sculpture Alice Anderson, who puts her dance experience to use in her performance art, which involves wrapping objects with copper wire (which reflects her red hair). "My language," she says, "is the body." She also stars in short films with dolls formed in her image. Sculptor Jodie Carey uses blood as a dye, although she doesn't say how she procures it. She also soaks newspaper in tea and coffee in order to form autumnal flowers. Sarah Lederman's body serves as a model for her paintings, which feature a fair amount of nudity. Some of the women also talk about children, whether they have them or not. Charlotte Hodes switched from drawing to collage and ceramics, when she had kids, whereas Susan Collins, who runs an art school, doesn't think she could have found a way to reconcile her work with being a mother. Hammam, who hails from Cairo makes the most explicit political work, digitally situating subjects from recent news stories into stylized settings. Other artists work in calligraphy (Afnan) and steel (Almuth Tebbenhoff). Along the way, connections become evident, such as the way that Carey and Afnan explore the passage of time, even though they are four decades apart in age. An interesting profile of contemporary women artists, this is recommended." - Video Librarian
ACADEMIC REVIEWS:
"Each of these artists could have her own short documentary film; all of them are that interesting...I would recommend this film to viewers who like to watch artists working... the amount of finished artwork is highly satisfying visually." - Resources for Gender and Women's Studies: A Feminist Review
**Recommended** "This documentary provides essential first-person accounts to discussions concerning gender, sexuality, motherhood, and societal pressures in the context of expressed art, careers, and personal growth. What elevates this film as a driving force in these important conversations is the numerous multidimensional views portrayed in one celebratory film about women. Recommended for college level students and community organizers, Mirrors to Windows not only serves as a motivational tutorial of forging a career in the art world, but it provides great insight of how the label "woman" serves as inspiration and an obstacle alike."  - Education Media Reviews Online, Jessica Morales, The University of Toledo, Toledo, Ohio