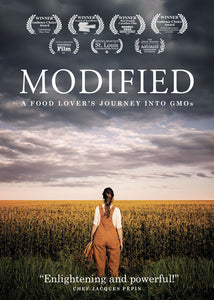 Modified
Regular price
Sale price
$125.00
---
Directed by: Aube Giroux
Released: 2018 educational release
Year of Production: 2017
Running Time: 87 min 
Language: English & French with English Subtitles
Accessibility: Includes English Closed Captions
Subjects:
Environmental Studies, Farming & Agriculture, Culinary Studies, Human Rights
A Food Lover's Journey into GMOs...Aube Giroux (the filmmaker) and her mother embark on a very personal and poignant investigative journey to find out why genetically modified organisms (GMOs) are not labeled on food products in the United States and Canada, despite being labeled in 64 countries around the world. Interweaving the personal and the political, the film is anchored in the filmmaker's relationship to her mom, a gardener and food activist who battled cancer during the film's production. Their intimate mother-daughter quest for answers, fuelled by a shared love of food, reveals the extent to which the agribusiness industry controls our food policies, making a strong case for a more transparent and sustainable food system. A visual celebration of family legacy and the love of food, cooking, and gardening.
RAVE REVIEWS
"Award-winning food blogger and web series cook Aube Giroux set out to make a documentary about growing good organic food, a passion she shared with her late mother. The last thing Giroux wanted to do was dwell on thorny issues concerning genetically modified organisms (GMOs) and the dominant role that they now play in our food production. It is enough, she thought, for people to take charge of their own food, confidently choosing reliable sources for health and happiness in the kitchen—just as her mother did. But Giroux soon found there was no way around a discussion of GMOs and how most consumers reluctantly buy biotechnology-tweaked food products. Modified explores the ways in which farmers are backed into growing and harvesting herbicide-resistant crops from GMO seeds and why organic farmers trying to grow food from heritage seeds are nevertheless finding GMO crops in their fields. The United States and Canada do not require food labels to list the presence of GMOs (64 other countries do). The fact that American politicians are more interested in protecting Monsanto's profits than promoting consumers' right to know the facts is always an infuriating theme, but Giroux adds her strong voice to others who are also fighting over this highly controversial issue. Extras include cooking videos featuring recipes from the film. Recommended." - Video Librarian
"Modified is a very personal, tender, touching tribute to a great mom, and a well-researched, well-written, enlightening and powerful documentary!" - Chef Jacques Pépin
"Like Agnès Varda in The Gleaners and I, Giroux draws us into encounters with various people directly impacted by these (food) policies, exposing the agribusiness industry's control over our democratic institutions."  -  Journal Metro

"Aube Giroux strikes a beautiful balance between the personal and political with her debut feature film." - The Coast Magazine

"Aube Giroux wanted to make a film about food but instead found herself making a film about democracy." - Le Devoir
"With such a weighty subject as its focus, it is a testament to Giroux's deft story-telling that "Modified" is so compelling and compassionate, and that it can evoke such a range of emotions. For anyone who cares about what they put in their mouth, where it comes from and how it is produced — and I would like to think that is all of us — this film is a must-see. It is also beautiful beyond words."  -  Joan Baxter, Medium

"Modified is a love story, exploring the loving bond between a daughter and her mother; between a woman and her garden; a filmmaker and the food she cooks and the small, sustainable farms that produce it. It's also about the regrettable loss of biodiversity, communities, small farms, and even small towns." -  Signe Langford, Harrowsmith Magazine 
AWARDS 
*Winner* 2019 James Beard Award
*Winner* Award of Excellence, Rhode Island International Film Festival
*Winner* Audience Choice Award - Lunenberg Doc Fest
Audience Choice Award - Vermont International Film Festival 2018
Best Environmental Film - Chagrin Documentary Film Festival 2018
Dr. Lamoureux Award for Excellence - Green Screen International Wildlife Film Festival (Germany) 2018
Best French Canadian Film Award - Rendez-Vous Québec Cinéma 2018, Montreal
Audience Choice Award - Festival international du cinéma des femmes Fort-Coulonge 2018
Audience Choice Award - Festival international cinéma francophone Acadie (FICFA) 2017
Best East Coast Filmmaker - Lunenburg Doc Fest 2017
Léonard-Forest Award for best East Coast feature - FICFA 2017
Honorable Mention, Best Feature - Devour the Food Film Fest 2017
SELECTIONS & SCREENINGS
National Canadian Broadcast - CBC
Santa Barbara International Film Festival
Ashland Independent Film Festival (Ashland, OR)
Maine International Film Festival
Planet in Focus Film Festival (Toronto)
St. Louis International Film Festival
National Heirloom Expo, Santa Rosa, CA 
Iowa Independent Film Festival -  Mason City, IA
DOCUTAH - St. George, UT
Sonoma International Film Festival 
Buffalo International Film Festival 
Kew Gardens Festival of Cinema
Reel East Texas Film Festival 
Barcelona Human Rights Film Festival (Spain)
Cinema Planeta - International Environmental Film Festival of Mexico 
Green Screen International Wildlife Film Festival (Germany)
Chagrin Documentary Film Festival 
Middlebury New Filmmakers Film Festival 2018
Atlanta DocuFest 2018
Bozcaada International Festival of Ecological Documentary (Turkey) 2018
Regina International Film Festival 2018
Victoria Film Festival 2018
Atlantic International Film Festival 2017
Festival international du cinéma francophone en Acadie 2017
And grass-roots screening events around the world... 
BOOK THE FILMMAKER AT YOUR EVENT
Aube Giroux, Director | Producer | Editor (left)
Aube Giroux is an award-winning documentary filmmaker, organic gardener, and food blogger who works on food, agriculture, and sustainability issues. She previously directed two documentaries for the National Film Board of Canada and several independent productions. Her work has been shown on CBC and at international film festivals. Aube is the creator of Kitchen Vignettes, an acclaimed farm-to-table food blog and online cooking show on PBS. The show received the 2012 Saveur Magazine Best Food Blog Award and is a two-time James Beard Award nominee. Aube holds an MFA in Film Production from York University. Modified is her first feature-length documentary. 
Camelia Frieberg, Executive and Co-Producer (right)
Camelia Frieberg is an award-winning film producer, director and a biodynamic farmer. She was the producer of Atom Egoyan's Oscar-nominated "The Sweet Hereafter" and "Exotica" and Jeremy Podeswa's "The Five Senses". Camelia manages Watershed Farm, a mixed livestock, vegetable, flower, herb and fruit farm on Nova Scotia's South Shore. She is a board member of USC Canada and proud mother of two.  
Host a Screening and Book the Filmmaker at your Event
MORE FROM THE PRESS...
"A love story about cooking and gardening - and the importance of regaining control over where our food comes from." - Treehugger

"A visually beautiful, informative foray into the facts about GMOs, efforts to have them labeled, and how individuals are protecting the choice—and quality—of what they eat. ...a paean to food—from seed to plant to crop, to transforming the harvest into culinary delights, to savoring the delectable creation. It's mouth-watering, and rekindles appreciation of what nourishes our experience as living beings on a living earth." - The Organic and Non-GMO Report

"Aube Giroux shone at the festival's closing gala, receiving the award for best East Coast feature film as well as the Audience Choice award for her film, Modified." - Radio-Canada (CBC)
"In addition to the extensive scientific and political research she undertook, the filmmaker presents a moving and universal work." - Acadie Nouvelle

"We chose this film for the award because its auteur-led approach is steeped in candour and authenticity. Because it skillfully interweaves the political and the personal. And because of the urgency of the film's message that citizens must demand transparency from their governments." - Lawrence Côté-Collins, jury member, FICFA