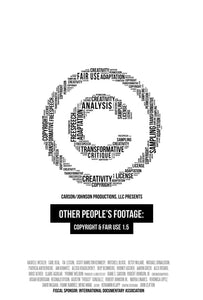 Other People's Footage: Copyright & Fair Use
Regular price
Sale price
$375.00
Tax included.
---
Directed by:

Diane Carson and Robert Johnson

Released: 2022 (educational)
Year of Production: 2017
Running Time: 74 min, 50 min EDU cut
Language: English
Subtitle Options: English Closed Captions
Subjects:  Technology, Film and Art
"Other People's Footage: Copyright & Fair Use" uses on-camera interviews with 19 noted documentarians including Haskell Wexler, Tia Lessin, Carl Deal, and Scott Hamilton Kennedy along with several legal experts to examine the three questions crucial to determining fair use exemptions for documentary filmmakers. The documentary presents illustrative examples from nonfiction films that use pre-existing footage, music and sound from other individuals' creations—without permission or paying fees.
About the filmmaker 
Robert Johnson, Jr. has produced and directed numerous educational, promotional and instructional videos, and more than two-dozen history of science documentaries that have aired on Public Television and cable systems throughout the U.S., Canada, and England. His most recent documentary, No Short Climb: Race Workers" & America's Defense Technology,received the Leigh Whipper Gold Award from the PhilaFilm International Film Festival & Market, a Platinum REMI from the WorldFest Houston International Film Festival, and has been screened at the Dallas Video Festival, the Athens International Film + Video Festival, and the Langston Hughes African American Film Festival in Seattle, Washington. A former member of the CINE Board of Directors, he served many years as jury chair for the annual CINE Golden Eagle Awards.
Robert Johnson, Jr. is co-founder and co-chair of the University Film and Video Association's (UFVA) Documentary Working Group (DWG) caucus, served for many years as jury chair of the Carole Fielding Grants Committee, and was elected to the UFVA Board of Directors in 2006. He contributed three biographies to the African-American National Biography,has been a guest lecturer at Harvard University, the Rutgers University, the Smithsonian Institute, and the Royal Society of Chemistry in London, England. He received a preservation grant from the National Film Preservation Foundation and produced the acclaimed documentary "Miss Louise Kingman" (using footage preserved from her film collection), and has exhibited photography and experimental video at numerous galleries including the Washington Project for the Arts, the Painted Bridge Art Center, NYU Washington Square East Gallery, the Joe & Emily Lowe Art Gallery, the Newhouse Center for Contemporary Arts, and the Scollay Square Gallery at Boston City Hall.
Diane Carson is Past President of the University Film and Video Association, 2008 to 2010. She is Professor Emerita of St. Louis Community College at Meramec where she taught film studies and production for over three decades. She also taught seminars as an adjunct professor at Webster University, St. Louis. She served as assistant director and co-writer for Remembering Bonnie and Clyde, Turquoise Productions,1995, that aired on PBS. Diane served on the editorial boards of the Journal of Film and Video and the Society for Cinema and Media Studies' (SCMS) Cinema Journal.
Diane is the co-author of Appetites and Anxieties: Food, Film and the Politics of Representation, (Wayne State UP, 2014). She has contributed to and co-edited several anthologies and has published articles in other anthologies and academic film journals.
She enjoyed Fulbright Field Study awards over successive years to China, South Korea and Japan in addition to serving as a faculty mentor and visiting lecturer at Canterbury Christ Church University, Canterbury, England.
Both Robert Johnson, Jr. and Diane Carson were film experts for the American Documentary Showcase, an initiative of the US Department of State Bureau of Educational and Cultural Affairs. A film expert and a filmmaker traveled with the Showcase to over 50 countries with over 60 documentaries. Robert Johnson, Jr. traveled to Rwanda (2010) and returned to teach master classes in documentary production. Diane Carson traveled to Indonesia (2009), Burma/Myanmar and Vietnam (2010), and Kazakhstan (2011). 
Host a Screening and Book the Filmmaker at your Event