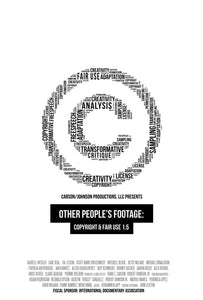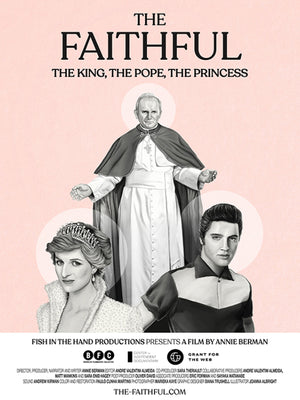 Other People's Footage & The Faithful - Exploring Fair Use in Film
Regular price
Sale price
$550.00
Tax included.
---
Running Time Other Peoples Footage: 74 min, 50 min EDU cut
Running Time The Faithful: 90 min
Language: English
Subtitle Options: English Closed Captions
Subjects:  Technology, Film and Art
Both OTHER PEOPLE'S FOOTAGE and THE FAITHFUL were released during the pandemic.
OTHER PEOPLE'S FOOTAGE provides a comprehensive understanding of Fair Use, while
THE FAITHFUL provides a dynamic case study in employing Fair Use. The two films are being presented together for the first time in conversation with film and legal scholars and engaged university audiences.
OTHER PEOPLE'S FOOTAGE: Copyright & Fair Use (50 mins)
Uses on-camera interviews with 19 noted documentarians including Haskell Wexler, Tia Lessin, Carl Deal, and Scott Hamilton Kennedy along with several legal experts to examine the three questions crucial to determining fair use exemptions for documentary filmmakers. The documentary presents illustrative examples from nonfiction films that use pre-existing footage, music, and sound from other individuals' creations—without permission or paying fees.
THE FAITHFUL (90 mins) explores the public's connection to and deep veneration of Elvis Presley, Pope John Paul II and Princess Diana--and what it means in terms of iconography, image culture, copyright law, and memory. Over the course of 20 years, Berman profiles these figures' biggest fans, makes numerous pilgrimages to Vatican City, Graceland, and Kensington Palace--and sees the film itself increasingly entwined with her daily life and identity.
WHAT EDUCATORS ARE SAYING
 
"OTHER PEOPLE's FOOTAGE is an engaging and informative exploration of fair use. The
thoughtful selection of illustrative examples drives home the importance of fair use rights in a way that is useful for law students and lawyers alike." -Erika Cohn, J.D., M.L.S, Director of the Law Library, Professor Saint Louis University School of Law
 
"Determining what is a fair use — and what isn't — can be daunting and frustrating for
filmmakers. These must-see Other People's Footage docs provide cogent guidance by
answering the most confusing frequently asked questions." -Sue Greenberg, Executive Director St. Louis Volunteer Lawyers and Accountants for the Arts
 
"Other People's Footage is a lucid and approachable primer on a notoriously misunderstood and intimidating topic: fair use. Highly recommended for budding filmmakers or anyone else wondering how to navigate these waters." -Pete Timmermann, Director, Webster University Film Series
 
"THE FAITHFUL is my favorite film we've screened in my five years as Associate Programmer of the USC School of Cinematic Arts. The film manages to be both deeply personal and universal, scratching at the itch of why and how we seek belonging and greater meaning. Annie's dexterous direction reads almost like a poem, weaving across decades and seamlessly jumping between subjects and stories in a stream of consciousness guided by her unique artistic vision, which provides critical, self-reflexive insights into the nature to textuality and authenticity within a fan-driven world of replication and reproduction. THE FAITHFUL is a must-see not only for those seeking to gain new insights into the nature of fandom, but also into the role of documentarians as active participants in this world, as creators of texts that contribute to bodies of fandom and preserve these images and ideas for generations to come." -Matthew Meier, Associate Programmer USC School of Cinematic Arts
 
"THE FAITHFUL reveals how popular culture is now our true religion. In her sweeping, powerful film Annie Berman captures the lives and memorial services of Elvis Presley, Pope John Paul II, and Diana, Princess of Wales. For over twenty years, she regularly visited Graceland, the Vatican, and Kensington Palace with throngs of admirers who acquired sacred relics that include A Pope John Paul II lollipop, an Elvis Presley shower curtain, and a Princess Diana teacup. Berman blends home movies of her family into the film, and her voice is our anchor as we journey through worlds that are both intensely familiar and hauntingly strange. She effectively uses music and photography to demonstrate how the spirit of Elvis, John Paul II, and Diana permeate our lives and offer us unending love as we deal with death and grief. Annie Berman's The Faithful is a profoundly important film that every person should view." -William Ferris, former NEH Chair University of North Carolina at Chapel Hill
 

"[THE FAITHFUL is] An extraordinary compendium, and accomplishment - entirely resonant with our moment." -Judith Tolnick Champa, Independent International Curator

"[THE FAITHFUL is] A brilliant film. Much more than can be captured in a log line. A meditation and exploration on our complicated relationships to images, icons and institutions." -Anna Feder, Curator and educator, Emerson College
Host a Screening and Book the Filmmaker at your Event