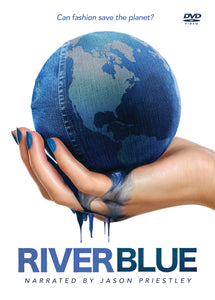 RIVERBLUE
Regular price
Sale price
$295.00
Tax included.
---
Directed by: Roger Williams & David McIlvride
Released: 2017
NOT CURRENTLY AVAILABLE IN CANADA
Running Time: 95 min, 52 min educational version
Language: English
Includes Closed Captioning
Subjects: Environmental Studies  
SYNOPSIS
Following international river conservationist, Mark Angelo, RIVERBLUE spans the globe to infiltrate one of the world's most pollutive industries, fashion. Narrated by clean water supporter Jason Priestley, this groundbreaking documentary examines the destruction of our rivers, its effect on humanity, and the solutions that inspire hope for a sustainable future.
Through harsh chemical manufacturing processes and the irresponsible disposal of toxic chemical waste, one of our favorite iconic products has destroyed rivers and impacted the lives of people who count on these waterways for their survival. RIVERBLUE brings awareness to the destruction of a some of the world's most vital rivers through the manufacturing of our clothing, but will also act as a demand for significant change in the textile industry from the top fashion brands that can make a difference.
SELECTED SCREENINGS & EVENTS
Vancouver International Film Festival – Nominated for the Impact Award
Cleveland International Film Festival
Sarasota Film Festival
DC Environmental Film Festival in the Nation's Capital
Wild & Scenic Film Festival, Nevada City
Voices from the Waters, Bangalore, India   
San Francisco Green Film Festival
San Diego Film Festival
Reel Earth Film Festival, New Zealand
The London School of Economics and Political Science 
Nigeria Fashion Revolution
The Climate Festival, Oslo
Vatavaran – International Environmental & Wildlife Film Festival, New Delhi
Turkish Sustainable Living Film Festival
Cine'Eco, Portugal
Caribbean Fashion & Arts Feature Festival, Trinidad
Fashion Film Festival, Tallinn, Estonia
Berlin International Film Festival
Borneo Eco Film Festival, Malaysia
Raindance Film Festival, London, UK
Patagonia Eco Film Festival, Argentina
Planet On Film Festival, Bogota, Columbia
Iran International Green Film Festival
Green Film Fest, Buenos Aires, Argentina
FIDM, Los Angeles
Madrid International Film Festival
Calgary International Fashion Film Festival
EarthxFilm Festival
      ... +70 More Screenings Worldwide 
"Recommended" by Video Librarian - Full Review
Jason Priestley narrates this documentary by Roger Williams and David McIlvride centered on the ghigh environmental cost of produing fashionable but inexpensive clothes like pre-distressed jeans. The film follows activist Mark Angelo as he visits various countries–India, China, Indonesia, Bangladesh, and locales in Africa–where tanneries and textile factories use toxic chemicals in garment production and pour the waste into rivers, resulting in severe pollution. Angelo talks with owners and workers who usually deny that processes they employ are doing ecological damnage, although the visual evidence indicates otherwise, as do witnesses who testify to the harmful impact that the pollutants have had on nearby residents, including children. Riverblue also includes interviews with some designers who were instrumental in concocting the chemical cocktails used in producing the clothing (and now regret the result), researchers who are devising safer (if more expensive) means of achieving the same effects and supporters of a Greenpeace campaign to detoxify polluted rivers. The question the film inevitably raises is whether consumers will be willing to spend more for clothes in order to protect the environment–laying down a challenge to viewers to join a crusade to save the planet. Presenting both the full-length version and a 52-minute abridgement, this is recommended.