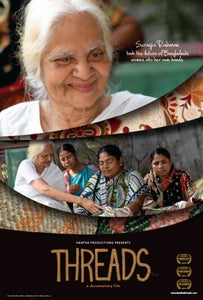 Threads
Regular price
Sale price
$295.00
Tax included.
---
Directed by: Cathy Stevulak
Released: Early November 2017
Running Time: 35 min
Language: English
Includes Closed Captioning
Subjects: Asian Studies, 
Visual Arts, Feminism, 
Sociology, 
Anthropology, 
SYNOPSIS
Torn from her family, her paintings, and her beloved Calcutta after the partition of India, artist Surayia Rahman finds a new life in Bangladesh teaching impoverished mothers to embroider her story-telling designs.

An inspirational example of the power of art and the impact of empowering women and girls around the world, THREADS takes us on an intimate journey into the heart of an artist and celebrates an unconventional path to dignity and independence.
LIBRARY JOURNAL REVIEW
Winner of the Best Short Documentary at the 2016 Female Eye Film Festival in Toronto, Threads relates the story of self-trained artist Surayia Rahman; her storytelling designs in kantha, a traditional craft of embroidery; and how she taught poverty-stricken women in Bangladesh to embroider her designs into works of art for profit. The youngest of seven children, Rahman (born in the 1930s) was always fascinated by art. Her work focuses on her folk designs, and over the years she has re ned domestic kantha embroidery into a fine art, with her pieces in museums worldwide. Today, no longer able to draw, Rahman wants other artists to step forward and work with kantha. VERDICT An inspirational tale of one woman's artistic journey and how she ultimately helped hundreds if not thousands of women to thrive. Will appeal to those interested in art, design, and culture.  – Library Journal, Denise A. Garofalo Mount Saint Mary Coll. Lib., Newburgh, NY
SCREENINGS & AWARDS
Winner, Best Short Documentary - Female Eye Film Festival
WHAT EDUCATORS ARE SAYING:
**Recommended** "Introduces a fascinating domestic art form and an interesting personality to viewers. Recommended for art and textile studies programs." - Education Media Reviews Online, Linda Frederiksen, Washington State University, Vancouver, WA
"Your beautiful film is timely: a tribute to the remarkable 

Surayia Rahman, who overcame many personal obstacles in order to help hundreds of women realise their skills with a needle. While changing the lives of all these women she also raised the profile of the marvellous art of kantha 

embroidery.  This is a truly inspiring story on every level." - 
Jenny Balfour-Paul, Hon. Research Fellow, Institute of Arab and Islamic Studies, President of the Association of Guilds of Weavers, Spinners and Dyers
"I don't think there is anything more important than getting these 20th century masters and mistresses on tape, people long neglected by art historians both here and in South Asia." - Dr. Stephen Inglis, Adjunct Research Professor, Art History, Carleton University, Ottawa, Canada 
"THREADS touches on a number themes -- textile culture, artisanship, the status of crafts along with design, tradition and innovation, intellectual property, women's empowerment, and art evolution in colonial and contemporary periods. Not only is it an informative biography of artist Surayia Rahman, it also invites an emotional connection to her and the women who work at Arshi. I have used this beautifully made film for a class assignment and appreciate how many questions it leaves open, thus encouraging personal reflection and further research." - Susanne Goetz, Associate Professor, Department of Textile and Surface Design, Fashion Institute of Technology
"THREADS is an inspiring documentary about Surayia Rahman, a women who through persistence, determination, and courage taught hundreds of women in Bangladesh skills with a needle so they could gain economic independence. Pushing through her own adversities, Rahman enables other women to realize masterpieces in thread. Rahman's story is a lesson about how each of us can make a difference in other people's lives." - Maureen Goggin, Professor of English, Arizona State University; Co-Chair Feminisms and Rhetorics Conference 2015
"THREADS provided an amazing opportunity to engage Fashion Institute of Technology students in a conversation about artisanship, fair trade and intellectual property. The film is visually stunning and very personal in nature. It explores complex issues without being overwhelming or overtly political. Its balanced approach prompted a long conversation after the screening, allowing students to share their own feelings and perspectives with the director, Cathy Stevulak." - Joshua Williams, Director, Faces & Places in Fashion lecture series at Fashion Institute of Technology
"This film inspired and showed students how artisans works can be used as a catalyst to change cultural and economic paradigms." -Ruth Jeyaveeran, of the Textile Surface Design Department at the Fashion Institute of Technology
"Director/co-producer Cathy Stevulak's documentary Threads offers a film experience as exquisite as the Kantha embroidery it celebrates. Succinctly and engagingly, Threads profiles the inspirational, vivacious Surayia Rahman who teaches and mentors promising, impoverished Bangladeshi women who possess a work ethic and a talent for embroidering lovely, vivid tapestries, some images presenting traditional Bangladesh folk stories with others designed by Surayia Rahman's fertile, artistic imagination. Seamlessly interweaving archival photographs and cultural history with contemporary interviews and a sampling of the works created by this group of women, Threads traces the trials and setbacks encountered by Surayia's center without ever diminishing the triumph of these women's spirit and talent. It left me longing to see this gorgeous Nakshi Kantha embroidery now showcased globally in prestigious art exhibits and museums." - Diane Carson Past President, University Film and Video Association
"Threads is an inspiring story of possibility not just for women, but for all who, with effort and development, can employ their skills to bring a better life to themselves, their families, and their communities. Congratulations to Hill and Stevulak for understanding the value of this and making this beautiful film to bring this message to others." - Barbara Haugaard, Evergreen Chapter, Embroiderers Guild of America