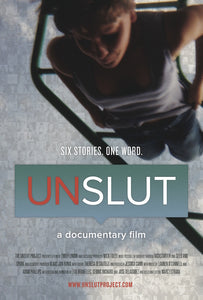 Unslut: A Documentary Film
Regular price
Sale price
$295.00
Tax included.
---
Directed by: Emily Lindin
Released: 2016(educational)
Year of Production: 2015
Running Time: 40 min
Language: English
Subtitle Options: English Closed Captions
Subjects: Women's Studies, Children Youth and Family Studies
In 2013, seventeen-year-old Rehtaeh Parsons took her own life. The Halifax teenager had been gang-raped a year and a half earlier by her classmates and labeled a "slut" as a result. Despite transferring schools many times, she could not escape constant cyber harassment and in-person bullying. Rehtaeh's is not the only story like this to make headlines in recent years. Why is the sexual shaming of girls and women, especially sexual assault victims, still so prevalent in the United States and Canada? 
UnSlut: A Documentary Film
 features conversations with those who have experienced sexual shaming, including the family and friends of Rehtaeh Parsons. We also spoke with Samantha Gailey Geimer, who was publicly shamed by the media after being sexually assaulted by director Roman Polanski at the age of thirteen in 1977; Gina Tron, who wrote about her experience being shamed out of pursuing charges against a serial rapist in Brooklyn, New York; N'Jaila Rhee, who coped with her sexual assault and the subsequent loss of support from her family and church by reclaiming her sexuality as a "cam girl"; and Allyson Pereira, who was ostracized in her New Jersey town after texting a photo of her breasts to an ex-boyfriend. Through interviews with sexuality experts, advocates, and media figures, 
UnSlut: A Documentary Film
 explores the causes and manifestations of sexual shaming in North America and offers immediate and long-term goals for personal, local, and institutional solutions.
Best Documentary Feature at California Women's Film Festival 2016
"Every high school student should ​see, discuss, and learn from UnSlut: A Documentary Film." - School Library Journal
About the filmmaker 
Emily Lindin is the author of "UnSlut: A Diary and a Memoir" and founder of The UnSlut Project, which uses personal story sharing to work against sexual bullying and "slut" shaming. The project was inspired by Emily's own experience being labeled the school "slut" at age eleven and being sexually bullied throughout middle school. Now a Harvard graduate and recent PhD, Emily started The UnSlut Project by blogging her diary entries from middle school. Her award-winning, crowd-funded film, "UnSlut: A Documentary Film" is currently screening at universities, theaters, and festivals around North America. Emily has been featured speaking out against "slut" shaming on television and radio shows including ABC with Katie Couric, CNN with Brooke Baldwin, and NPR's Here and Now, and in many magazines and blogs including Women's Health Magazine, Glamour UK, and Salon.com.
Host a Screening and Book the Filmmaker at your Event