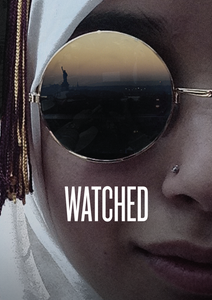 Watched
Regular price
Sale price
$175.00
---
Directed by: Katie Mitchell
Released: 2018 (educational)
Year of Production: 2017
Running Time: 20 min
Format: NTSC DVD or Digital
Subjects: 
Human Rights, American Studies, Islamic Studies
This short 19-minute documentary is an intimate and moving exploration of the profound and far-reaching impact of surveillance on Muslim American individuals and communities. Premiering at the 2017 Tribeca Film Festival, WATCHED is told through the personal experience of two women, both coming of age in New York. The film charts the devastating toll of surveillance and reveals the scars it leaves behind.
Awards & Festivals
Tribeca Film Festival
Citizen Jane Film Festival
Milwaukee Film Festival
Brooklyn Academy of Music (BAM)
Students Not Suspects (Chicago)
Vimeo Presents: Ladies with Lens
California State University "Watched: Muslim American Women, Activism, and State Surveillance" 
"
Cognitive dissociation has been just one of the devastating effects on victims of an elaborate police sting operation that took place in New York City between 2011 and 2015. A secret division of the New York Police Department, intent on rooting out material support by local Muslims for terrorist groups or individuals, sent an undercover cop to Brooklyn College, where she infiltrated an on-campus association of Muslim students. Filmmaker Katie Mitchell's 
Watched
 is a startling documentary about that secret investigation and its ramifications for the now-traumatized students who befriended and supported their faux cohort for four years. Going by the name of "Mel," the spy not only attended events, but socialized at the students' homes, and even served as a bridesmaid for one of the women. Suspicions about Mel did grow as she sometimes aggressively pushed people for information about their beliefs and politics. Now well past graduation, some of those students still feel vulnerable and targeted by authorities. The former students interviewed here generally agree that Mel's infiltration, which was eventually exposed, caused them to lose personal motivation toward career and life goals that might have made them more open members of society. An unsettling film about brazen and unwarranted religion-based profiling and invasion of privacy, this is recommended." - Video Librarian
"Watched is a rare portrayal of the devastating impacts of policing on young Muslim lives. While Muslim Americans are constantly talked about in the public sphere, we seldom hear their unmediated voices. Watched is a rare journalistic endeavor, one in which we are able to listen to American Muslim women speak about their experiences coming of age in post 9/11 America - without any other voices cutting in" - Broadly/Vice